The Wonder of the Wonderbag
For the last four years I have been pursuing a sustainable and slow lifestyle; the simple life. During my teens I saw just how incredibly rushed and stressed the so called modern world is, and the more I saw of it, the less I wanted to be part of it. I am not saying that the modern world is all bad - it has some good qualities too - but the world has changed at an incredibly fast rate these last few hundred years, while us humans have remained the same. The world is moving at a faster pace than we humans can handle, and the more technology that is invented, ironically enough, the more ignorant people seem to become. They rely on technology to think for them, to act for them, to date for them. So much so that there are courses out there on how to interact with people without technology.
Is it really progress?
I am so very thankful that I had a childhood before the age of technological progress: smartphones, tablets and laptops. Nowadays people choose technology every time, and in some countries, technology is starting to replace people. Robots giving people their orders in coffee shops, robots packing groceries, robots working in factories - you name it. We've forgotten how to slow down, how to take our time and just breathe. Everything doesn't have to happen right this second. Once more, for the people in the back. Everything doesn't have to happen right this second.
We've forgotten the value of taking our time and connecting with others. The value of walking into the woods and just sitting there, listening to the wind rustle the leaves, taking off your shoes and feeling the earth and moss underneath your feet. That's living.
So many children today, some even under the age of three, can use a tablet and are semi-addicted to it, acting out whenever they don't have full access to it. Children who'd rather sit by a computer or a smartphone than interact with each other or go outside and play. Parents using smartphones, Netflix and tablets as their own personal babysitters. I find that so very sad.
And while I do work with a laptop for a living, I take time every day to take long walks outside in nature to create a balance. And if I can, I like to just sit in the woods or by the seaside and meditate. Just breathe it in and think of how nature saves us all, how it has been here for millions of years, long before we humans started destroying the world. It makes me feel small and insignificant, and it gives me hope that nature can survive us humans and our attacks onto it. That the environment can be saved, and the humans and animals with it.
Stumbling across the wonderbag
In my pursuit of simplicity and sustainability, I spent a lot of time on Pinterest and YouTube looking for inspiration and ways to become more sustainable. One day, I came across the magnificent invention called the Wonderbag. Technology and electricity can be useful, but if there is a non-electric way to do something, I will choose that one every time.
What is the Wonderbag & How do I use it?
The Wonderbag is this beautiful slow-cooker that will cook your food without electricity. It can even work the other way around, to keep the cold food chilled. My dream is to live off grid with solar panels and a burning stove, and occasionally cooking over an open fire outside, and this invention has helped me get closer to that future.
I only use cast iron pots when I cook and they are excellent in preserving heat. I heat it up on my portable induction stove, and as soon as it is warm enough and/or the content is boiling, I turn it off. Inside the Wonderbag I have two small wooden chopping boards and one or two kitchen towels to cover the sides of the inside of the bag. I place the hot pot carefully on top of the wooden boards and tighten the bag around the pot with drawstring, and place the fabric-covered lid on top. Then I let the Wonderbag do the rest.
Thus far I have used it to make vegan Sukiyaki, carrot soup, tomato soup, Kimchi hot pot, Tabbouleh and many, many other dishes. I've boiled potatoes and rice in it, and used it to bake bread, saffron cake and for Yule, a chocolate cake with dark chocolate frosting. It is an amazing invention that truly simplifies my life.
Because you only need to heat the pot on the stove and no more, you never have to worry about forgetting to unplug- or shut off the stove, and there's no little kiddie fingers that can get burned touching the stove either. It is a safe and simple way of cooking that saves you time, energy and electricity and you could just as easily heat the pot and bring it to a boil over an open fire. That's what I love about it the most!
How is it manufactured?
The Wonderbag is handmade in factories in South Africa with sturdy polyvinyl fabric and recycled foam. It works in four simple steps. Bring it to a boil, place it in the bag, let it cook as long as needed, and then you're good to go. The longest I've cooked with it was 8-10 hours and when I opened the bag, the food was still warm, if not hot.
If you spill something on it, wipe it off and if you need to clean it, wash it by hand and hang it to dry. If there are stains, use some gall soap or aleppo soap to remove it and should you need some form of detergent, soap nuts can be used. If you have a newer washing machine that has a gentle program with cold water, you can use it, but it is so simple to wash by hand, there's hardly any need. After that, you can just hang it to dry, or use a low setting on a tumble dryer.
Who is it for?
The Wonderbag and a cast iron pot can together replace both your slow-cooker, your rice-cooker, your microwave and your oven. What I like to do is bring the food for the day to a boil in the morning, place it in the bag and let it cook. Then eat the food warm from the bag both for lunch and dinner.
They come in different sizes and whether you are a bachelor or you have a large family to feed, whether you live off-grid in a yurt or in a three bedroom apartment in the city, the Wonderbag is a worthy investment for you.
Right now it is winter here in Sweden, but I look forward to see how well it keeps the food cool during the summer. It would be wonderful to bring it to a picnic in the grass, or to a long day at the beach. Perhaps also for a sunset date, with champagne and fresh strawberries. It's an invention with infinite possibilities, that's for sure.
The world needs activism
I want to change the world. It is not about ego, that I want to be the one that changes the world. But I want the world to change and I want to make sure that I do my part to ensure that happens. Most people in the world today live life with their heads in the sand. They act like the awful, horrifying reality we live in doesn't really exist. But it does. There is no use covering our eyes and ears, putting on Netflix to distract ourselves. We have to own up to humanity's past- and current mistakes to prevent future ones from happening. Poverty is real. Racism is real. Homophobia and transphobia are very real. Prejudice is thriving. Stupidity is spreading like the plague. The animals are going extinct. So called farm-animals are treated as products and waste. Nature is abused and the environment is collapsing. More money is put on war than on education or healthcare. Medical marijuana could cure and treat over 600 diseases, but it is forbidden in most parts of the world, because the pharmaceutical companies and the system will benefit more financially from keeping the sick people sick. Poverty and homelessness is getting worse by the day, and yet the fat cats keep getting fatter.
But we also live in a world where more people are becoming aware, becoming woke. People are rising from the sand, and they are awakening to the reality of the world today and once they have awakened, they cannot go back. Activists are born. As in any time when activism is desperately needed, this is a difficult time to stay positive, to stay hopeful that things truly will change. But I think it is up to each and every one of us to do our part. To do what we can both toward the animals, toward the environment and toward each other. These days people speak more sweetly to their cars than they do to each other. That has got to change.
The Wonderbag Sparks Joy
As a plant-based eater, a minimalist and a Konmari enthusiast, I can wholeheartedly say that this invention makes my life easier every single day and with it's beautiful colour and pattern, it most certainly sparks joy! I very much hope that the family in Africa, that through my purchase, also received one, will love theirs as much as I love mine. And I am thoroughly convinced that the Wonderbag invention is a step in the right direction in the world: to unite the people, to limit our carbon footprint, to save nature and by doing so, save ourselves and to help people support their families and create an income to give themselves a future.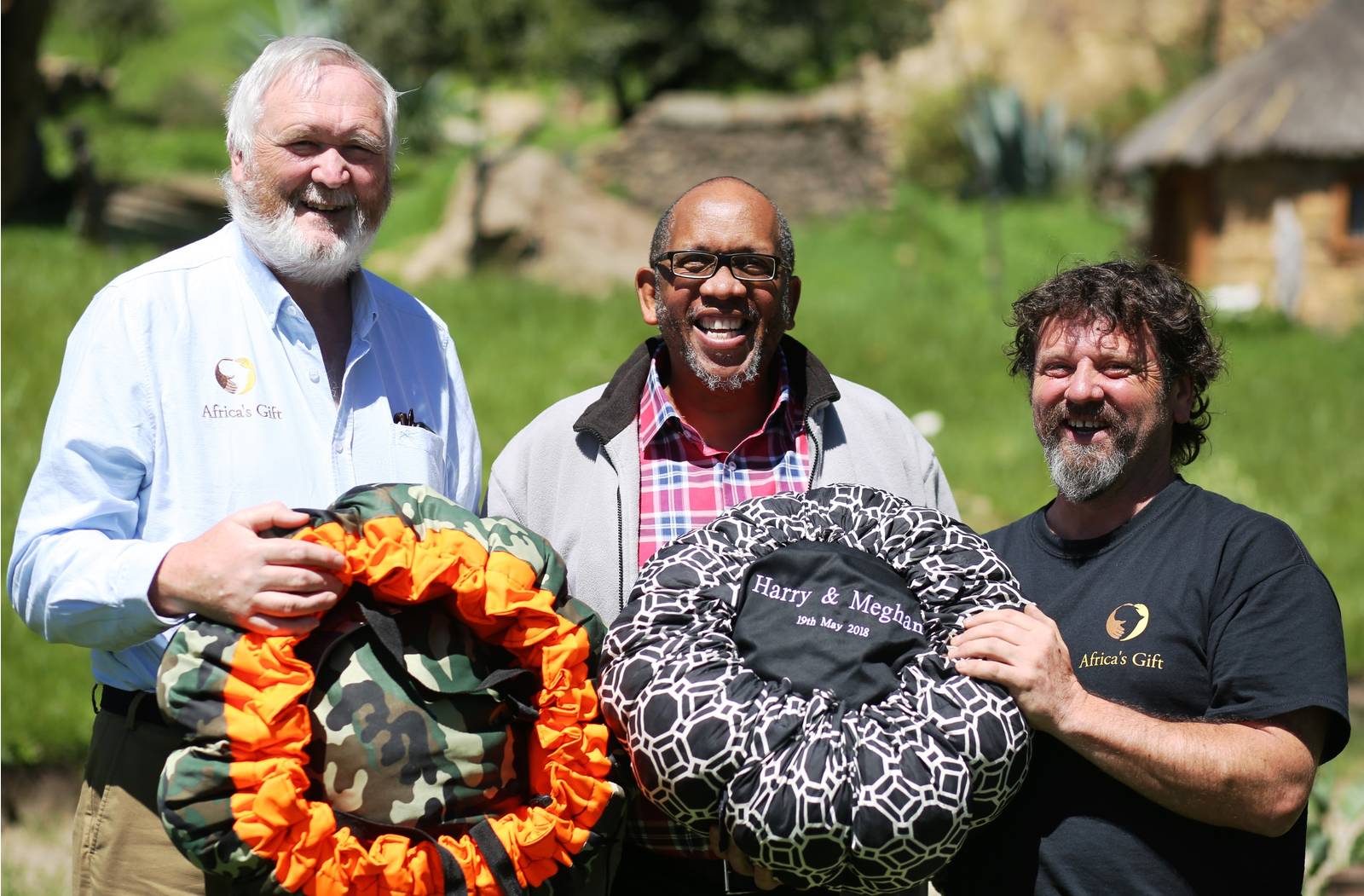 Here you have a list of the amazing impact the Wonderbag has had, and how investing in one is a step to making this world a better place. Enjoy!
Why Is Wonderbag The Ultimate Gift That Gives Back?
Why have Bill Gates, Paul Polmon, Kathy Calvin, Mohammed Yunus, Etharin Cousins, Mark Rutte and Jane Goodall seen this innovation as a humanitarian game changer with global appeal?
The Wonderbag is a simple but revolutionary heat retention slow-cooker, which continues to cook food, which has been brought to the boil by fire, cook stoves or any conventional method, for up to 12 hours without the use of any additional fuel source. The South African invention is saving lives from smoke inhalation, combating deforestation, providing time women to work and for children to go to school and decreasing the incidents of rape (82% of rapes happen while women and girls are gathering firewood).
Wonderbag is an economic catalyst. In rural African communities the intervention of a Wonderbag can help a family go from 20 cents a day income to $2 a day.
Over 4 billion people eat from an open fire everyday causing 4 million people to die each year from illness caused by indoor air pollution-related diseases. 50% of deaths from pneumonia of children under 5 are caused by breathing particulates from household air pollution.
Wonderbag is a powerful change agent for the Climate. A single Wonderbag, when used for one year can: Reduce carbon emissions by 1 Ton. Reduce deforestation, save 1.7 trees. Conserve 1,000 litres of cooking water. Reduce indoor air pollution by 60%. Reduce time poverty, giving back 1,465 hours per year.
Wonderbag was accredited by the UN Framework Convention on Climate Change in Rwanda. Wonderbag has harvested and issued over 1 million tons of Carbon Credits since 2008 as POA-CDM and VCE projects.
Wonderbag has been utilized in refugee and humanitarian interventions in the Middle East since 2012. This year Wonderbag launched a partnership with The Red Cross. Wonderbag has launched and monitored the impacts of Wonderbag Activations in the Mahama refugee settlement in Rwanda and in the BidiBidi Refugee settlement in Uganda (the largest refugee settlement in the world) as part of the Red Cross and Red Crescent Movement's Green Energy program.
Wonderbag is a social enterprise with a unique business model. For every bag sold in the Western World, a donation is made to the Wonderbag Foundation and a bag is subsidized in the developing world. By subsidizing the Wonderbag and selling it at a price that is affordable in the local economy, women are given the opportunity to exercise dignity of choice in the financial transaction. Wonderbag's research shows that purchased bags are used 92% of the time, while bags given away were used in just 54% of households.
Sarah is a fierce advocate for change, opportunity and economic equality for women and families in Africa and around the world. Sarah's impact as a CEO and advocate for women and families has lead to her speaking at the 2013 Davos World Economic Forum, The Global Alliance in New York, The UN Social Good Summit, The Royal Geographic Society in London, The Eye On Earth Summit in Abu Dabi and more. Sarah speaks around the world about Globally Conscious Capitalism, gender equality and how global business models of the future can scale ethically through human centered market entry and participation.
Sarah has launched successful partnerships with major corporations such as Unilever, Pfizer and Microsoft who wish to be part of impactful economic, environmental and health solutions across the world. Sarah is creating a fresh blueprint for the business community to work together in innovative ways that uphold human rights, honor human dignity and build sustainable economies.
Wonderbags are activated via Wonderfeasts. A WonderFeast is an opportunity for the community to come together to learn to cook with the Wonderbags, enjoy a meal together and purchase a subsidized Wonderbag at a price they can afford. A WonderFeast is a catalyst for communities to come together to learn about life saving opportunities and often there is a partnership with a public health initiative. Community leaders are also brought together to discuss challenges and and look for solutions together.